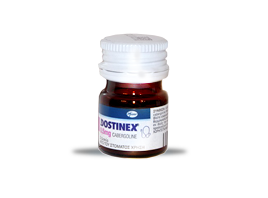 Active ingredient:
Cabergoline
Dostinex is used to treat hyperprolactinemia, which manifests as infertility, a violation of the menstrual cycle (oligomenorrhea, amenorrhea, anovulatory menstrual cycles), galactorrhea in women. Men use it to treat hyperprolactinemia, which manifests itself by a decrease in libido or impotence. The drug copes with micro- or macroprolactinoma, idiopathic hyperprolactinemia, syndrome of an empty Turkish saddle. It also suppresses physiological lactation after childbirth if the woman is unwilling or unable to breastfeed, or if there are contraindications to feeding for the child or the mother. The drug prevents lactation after childbirth in case of abortion or stillbirth.
We accept:

Delivery period
14-21 days
$9.95
Tracking# available in 14 days

Delivery period
14-21 days
$29.95
Tracking# available in 5 days
Availability:
In Stock 113 packs
Dostinex 0.25
| Package | Per pill | Total price | Save | Order |
| --- | --- | --- | --- | --- |
| 0.25 x 8 Pills | $5.74 | | - | Add to cart |
| 0.25 x 12 Pills | $4.78 | | $11.52 | Add to cart |
| 0.25 x 16 Pills | $4.30 | | $23.04 | Add to cart |
| 0.25 x 24 Pills | $3.82 | | $46.08 | Add to cart |
| 0.25 x 32 Pills | $3.58 | | $69.12 | Add to cart |
| 0.25 x 48 Pills | $3.34 | | $115.20 | Add to cart |
| 0.25 x 56 Pills | $3.27 | | $138.32 | Add to cart |
Dostinex 0.5
| Package | Per pill | Total price | Save | Order |
| --- | --- | --- | --- | --- |
| 0.5 x 4 Pills | $12.81 | | - | Add to cart |
| 0.5 x 8 Pills | $9.43 | | $27.04 | Add to cart |
| 0.5 x 12 Pills | $8.30 | | $54.12 | Add to cart |
| 0.5 x 16 Pills | $7.74 | | $81.12 | Add to cart |
| 0.5 x 24 Pills | $7.18 | | $135.12 | Add to cart |
| 0.5 x 32 Pills | $6.89 | Free Trackable Delivery | $189.44 | Add to cart |
| 0.5 x 48 Pills | $6.61 | Free Trackable Delivery | $297.60 | Add to cart |
| 0.5 x 56 Pills | $6.53 | Free Trackable Delivery | $351.68 | Add to cart |
Package Example
Your order will be packed safe and secure and dispatched within 24 hours. This is exactly how your parcel will look like (pictures of a real shipping item). It has a size and a look of a regular private letter (9.4x4.3x0.3 inches or 24x11x0.7cm) and it does not disclose its contents
Front View
Side View
Back View
Product description
---
Dostinex is a medicine specifically designed for the management of disorders characterized by increased levels of prolactin. This is often observed in connection with a lack of menstrual periods, undesirable chronic production of breast milk and inability to conceive a child.
The medicine is also indicated in cases where there is a need to suppress lactation due to medical reasons (for instance, in treatments of pituitary adenomas).
Dostinex works as an agonist of active dopamine receptors. The substance prevents the pituitary gland from secreting prolactin thus allowing the patient to stabilize their hormonal levels.
Directions for use
---
Using Dostinex requires a strict adherence to your doctor's guidance. Learn more from instructions on the product's label regarding the possible ranges of doses for this medication, as well as specifics of its use in various populations of patients.
It is allowable to take Dostinex orally either before or after meals;
Stick to a rigorous dosing schedule. Use a paper or electronic calendar to mark the time points on which you need to administer Dostinex;
Any accidentally omitted dose of this drug should be administered at the earliest convenience except when your missed dose and the next scheduled one almost coincide in time. If this is the case, leave out the omitted dose and return to your normal dosing timetable. Do NOT increase the dose that follows the omitted one.
Store Dostinex for long periods of time at 77 °F in a dry place protected from heat and direct sunlight. For the purposes of a short-term storage, you can keep Dostinex in a temperature range of 59-86 °F. Make sure that children and pets do not have easy access to the medicine.
Be careful not to use Dostinex after its shelf-life has expired.
Safety information
---
Use of Dostinex is not advisable in people to whom applies one or more items of the provided below:
allergy sufferers and patients with a distinct allergic response to Dostinex's components or to any ergot derivative (such as ergotamine);
patients with elevated or poorly controlled blood pressure;
patients who are on a treatment with metoclopramide, butyrophenone (e.g., benperidol) with phenothiazine (e.g., triflupromazine) or with thioxanthene (e.g., clopenthixol).
Check with your health advisor on the matter of all possible interactions of Dostinex with the drugs you are currently using.
Other crucial aspects to observe when taking Dostinex are as follows:
Refrain from performing any hazardous or possibly unsafe operations, such as driving or working with heavy machinery, until you know your exact reaction to Dostinex.
Do NOT use Dostinex in pregnant or nursing women.
This drug is not to be used by children.
Side effects
---
Let your attending doctor know in the shortest possible time if you are bothered by any of the following side effects:
muscle feebleness or tiredness;
giddiness or headaches;
upset stomach, queasiness;
vomiting.
Seek emergency help without delay you feel or suspect that you feel strong allergic reactions to Dostinex that may manifest in eruption, urticaria, itchy feelings, trouble with breathing, chest tightness, swollen face feet or upper limbs.
Rare and exceedingly rare adverse medical effects include depressed state or changes in mood or behavior (e.g., outbursts of anger), feeling confused, deliria, cough, fainting, irregular heartbeat, disturbances in vision.